Thanks to the quiet location in the heart of the spa town of Bad Reichenhall, you can spend a relaxing stay in an alpine environment and close to the thermal and spa facilities in our beautiful 3-star hotel. Our Hotel Almrausch offers cozy Alpine-style rooms with free Wi-Fi. All our rooms have a balcony with a beautiful view on the Berchtesgadener country.
Every morning our guests enjoy a rich breakfast buffet. And our cozy terrace offers a nice atmosphere for a relaxed evening.
The Hotel Almrausch is a 5-minute walk from the spa gardens, the Ruperts thermal springs and the pedestrian zone. The area offers many activities throughout the year, including skiing, snowboarding, cross-country skiing, climbing, mountain biking and hiking.
We want to make your stay as comfortable as possible and offer you a special service that is free of charge for you.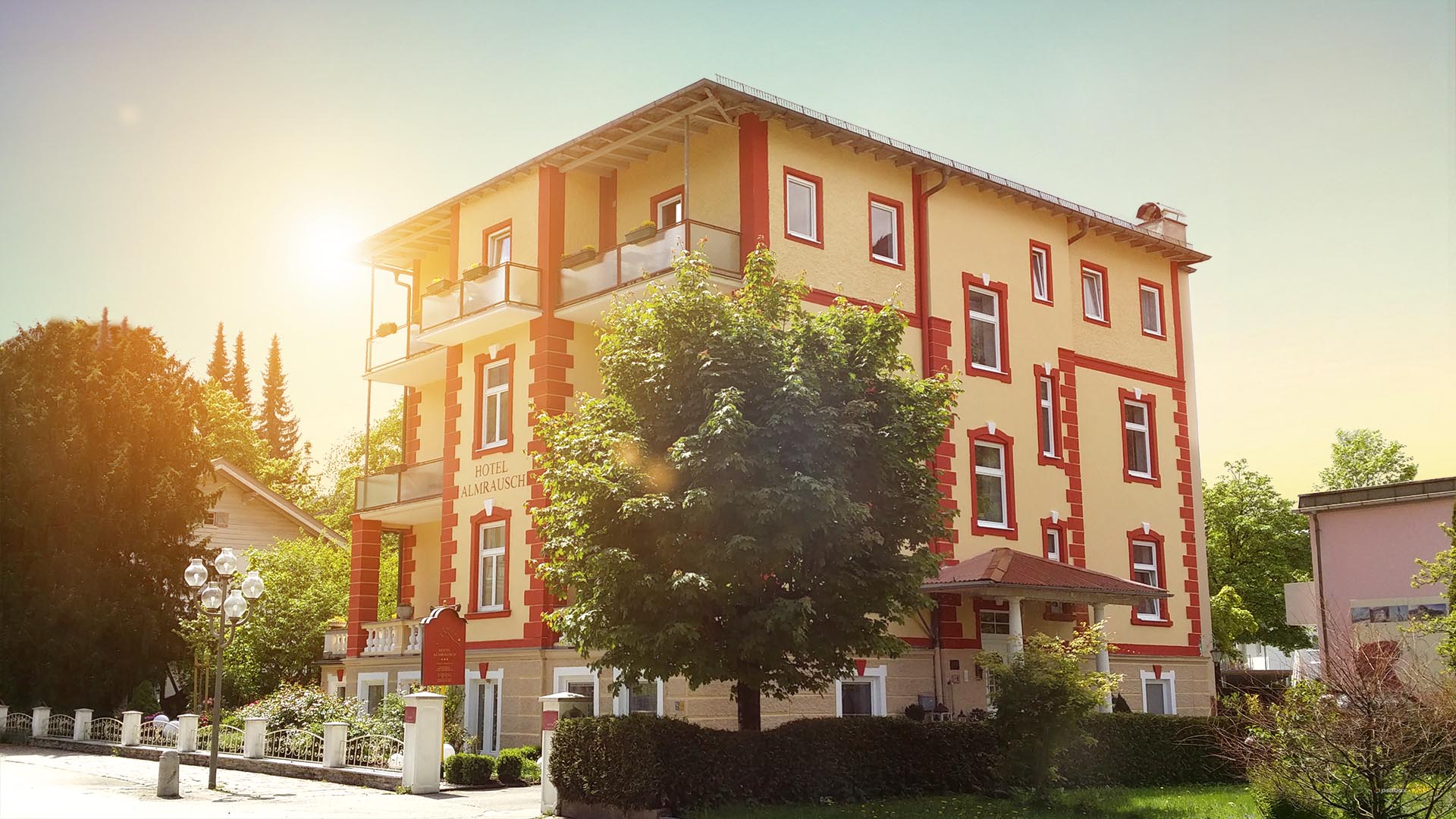 [bsf-info-box icon="Defaults-cutlery" icon_size="32″ icon_color="#a31918″ icon_style="circle" title="Breakfast buffet from 7:00 to 10:00″][/bsf-info-box]
[bsf-info-box icon="Defaults-rss" icon_size="32″ icon_color="#a31918″ icon_style="circle" title="Free Wi-Fi in every room and in the hotel"][/bsf-info-box]
[bsf-info-box icon="Defaults-tint" icon_size="32″ icon_color="#a31918″ icon_style="circle" title="One bottle of water in every room"][/bsf-info-box]
[bsf-info-box icon="Defaults-moon-o" icon_size="32″ icon_color="#a31918″ icon_style="circle" title="Extra pillows for a restful sleep"][/bsf-info-box]
[bsf-info-box icon="Defaults-fax" icon_size="32″ icon_color="#a31918″ icon_style="circle" title="Wake up with our wake-up service"][/bsf-info-box]
[bsf-info-box icon="Defaults-newspaper-o" icon_size="32″ icon_color="#a31918″ icon_style="circle" title="Enjoy the daily newspaper at the breakfast buffet"][/bsf-info-box]
[bsf-info-box icon="Defaults-automobile car" icon_size="32″ icon_color="#a31918″ icon_style="circle" title="There are enough parking spaces available in our courtyard"][/bsf-info-box]
[bsf-info-box icon="Defaults-automobile car" icon_size="32″ icon_color="#a31918″ icon_style="circle" title="Check-in until 08:00 p.m for you personally or with a night safe"][/bsf-info-box]